In Transit Order Vehicles Available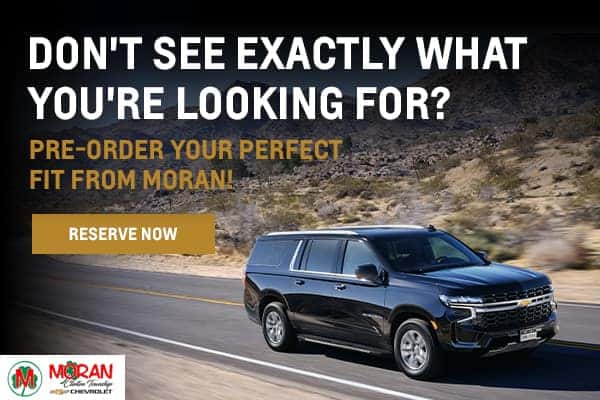 In Transit Order Vehicles Available
In-Transit Cars for Sale in Clinton Township
Many Sterling Heights-area dealerships have fewer available cars for sale than in years past because of the ongoing automotive chip shortage. As a result, more buyers than ever before are opting for pre-owned models or choosing to custom-order their new cars. But what if you'd prefer to buy new without paying the higher cost of a custom car?
In-transit vehicles are the happy medium between used and custom! These new vehicles are presently on their way to the dealership or waiting to be shipped—but can be pre-ordered right now. As soon as your new car arrives at our dealership, we'll give you a call and let you know it's ready to pick up.
Why Buy In-Transit Vehicles?
Even when you can't find what you need in our inventory of available cars for sale, you don't have to settle on anything less than a perfect fit. If you're willing to wait a couple of weeks to drive your new car home to Macomb Township, in-transit cars are a smart solution and can offer benefits like:
Everything you need, nothing you don't. When inventory is limited, it can be hard to find a car with most of the features you desire.
Better value. By including in-transit cars in your search, you'll have far more options to choose from. When your new car is a good fit, you don't end up paying for features you won't use!
No need for upgrades. When you get the car you want in the first place, you're less likely to stretch your budget by adding-on missing features.
For those drivers with more specialized needs, ordering directly from the manufacturer may be the way to go. You'll have a hand in the design of your vehicle, and it will be built exactly according to your specs.
Schedule Your Test Drive at Moran Chevrolet, Inc.
You can expect in-transit vehicles to take at least several weeks to make their way to our showroom in Clinton Township, but we recommend taking one of our available cars for sale for a test drive. That way, you'll be able to commit to a car with confidence—even if you can't yet drive the exact model you'll be taking home to Saint Clair Shores.
Whether you'd like to custom-order your car or reserve one of our available in-transit cars, our team is happy to assist! Contact us to get started today, and be sure to use our payment calculator to get an accurate estimate of your monthly auto payment.